Greetings Fellow Avatars!
Welcome to Release 100! The Catnip Games development team marks this 100th monthly release of Shroud of the Avatar with new content and improvements. For Release 100 (R100), a new adventure scene has been added to the game: Grusk!
For those wishing to participate in any community activities, upcoming one-time and recurring community events have been announced! Be sure to also review the Player Guide and Known Issues for additional information on recent changes and upcoming fixes.
---
News Announcements
Community Updates
---
New Adventure Scene: Grusk!
The modern kobold metropolis of Grusk has opened its gates to humans! Nestled by the Eye of the Artificer in Mistrendur's Rostfelt region, on the shore of the beautiful Reykturfloi, this Tier 10 town has sights for the discriminating tourist with Episode 2 access.
Get to know another culture! The residents of Grusk are happy to discuss their views on history and their daily lives with an appreciative audience. Enjoy the sea breezes as you sit and chat at the fabled Grusk Lighthouse.
Visit fine dining establishments, both at the scenic docks and in the bustling upper town. Don't worry about distances when planning your outings: Grusk is at the vanguard of modern public transportation and the town is well-serviced by several free trolley routes. The townsfolk power them with quite an assortment of windmills, taking advantage of the winds off the bay, and geothermal energy from the nearby springs.
Grusk is not just a tourist spot, though: this is a busy port town with extensive warehouses, businesses that support their fine tradition of technological crafting, and a diligent guard force. Some even say that the Governor is in line to become the next Grand Artificer of the kobolds! Under the monumental moon towers, automatons make their way through the city, working constantly to keep it clean. Pick up a unique autonomous companion of your own to bring home.
Ouside the city proper, walk along extensive beaches! Enjoy fishing under the swaying palms, fly a kite, you might even find a pearl! …or head up into the hills for a challenging hike: enjoy the heat of mineral springs and thrill to the sight of their geysers, with plenty of wildlife to view along the path to them!
---
New Fetid Fish!
Araipama, Barramundi, Spotted Catfish, Longnose Gar, and Tigerfish have been discovered in the fetid waters of New Britannia! We're not sure where they've been hiding, but this Spring seems to have drawn them out. The recipe-writers of New Britannia have already created trophy recipes for each, with food recipes to come soon.
---
Quest Resets For Everyone!
Oh no, a kobold hacker has reset everyone's quest flags!
…Well, reset their quest RESET flags. If you've already used your once-per-character quest reset, you'll find another is available to you now! Read more about what this entails specifically and how to accomplish it in the Player Guide.
---
Release 100 Patch Notes
Below are a list of the updates that are live as of Release 100 (R100) in the game of Shroud of the Avatar! Despite the new scene, R100 is a polish, improvements, and bug fixes month. Content, additional improvements, and bug fixes are inbound for R101 next month. We hope you enjoy the changes that are live today as of Release 100!
Crafting, Decoration, & Inventory Item Changes:
The irish-themed wax cylinders delivered in R99 have had their no-trade flags removed for greater playback flexibility.
Created new recipes for Saber-Toothed Tiger and Snow Leopard trophy mounts and rugs.
Added Recipe for Sweet Cunning Cat Stew and distributed to the Vertas Pass elves (Patched into R99)
Added Recipe for Potion of the Stalking Cat, Aether and distributed to the Breach (Patched into R99)
Added ability to place easter baskets on POT land as deco. SOTA-70324
The weight of bone powder has been reduced.
Fixed naming inconsistency with tamed Red Ice Snarlers. SOTA-69512
Fixed naming inconsistency with tamed Saber-Toothed Tigers. SOTA-70249
Fixed naming inconsistency between mounted stag antlers and their recipe. SOTA-70257
Fixed Cat Claw not appearing in crafting tab. SOTA-70254
Corrected a typo in the label for carcasses of the Saber-Toothed Tiger. SOTA-70280
Animal bones can once again be placed on your kitchen counter. SOTA-70240
Fixed Tall Tiki statue eye flames turning off at certain angles with GPU occlusion on. SOTA-69997
Fire elemental statue should now burn forever again. SOTA-69417
Combat & Skill Changes:
Changed name on big cat attack to be generic since multiple cat types use it. SOTA-70250
Fixed various issues with big cat attacks: fixed incorrect names on some attacks, claw attacks will now alternate left and right claws, and fixed an issue with Rend using a bite attack animation. SOTA-70250
Big cats will now correctly scale vfx used on them.
User Interface, Store Information, & Lua Changes:
Teleport to Zone Scroll Window Enhancements

In R100, to help players identify and get to the special events and contest when they are occuring, the Teleport to Zone scroll window shows color-highlighted scenes. These listings will be color-highlighted for a few hours, days, weeks, or longer, depending on the duration of the activity.

Monthly fishing tournament scenes are blue
Treasure hunt scenes are brown
Daily special fishing POTs are yellow
Special events may appear in red

Note that if your avatar has not yet visited one of these highlighted scenes and the scene is technically still "locked" for your zone scroll, you might take this as an opportunity to visit the scene while the activity is taking place.
In the Deck Selection window, decks now have a number shown and can be moved up and down. That number can also be clicked to be changed manually.
Players can now tab between quantity and price in the player vendor UI.
The pet status bar will now show the time you have left to resurrect it before it permanently dies.
In the journal UI, text can now be selected and copied for descriptions of tasks and the journal entries. Disabled the scroll with mouse click in entries to allow for selection of text.
When a party leader sets the loot mode to roll, a confirmation window will open for players that don't have Auto-Roll option checked asking them if they want to enable it.
The teleport to user window has a bit more height and can be resized vertically.
Added a label in the store UI to get episode 2 if the player doesn't already own it.
Teleport to friend scrolls will now show episode 2 locations greyed out and with a tooltip to buy episode 2 access. Instead of attempting to load the map and bouncing back, the message will appear before teleporting.
The Decoration Palette can now be resized horizontally and diagonally.
Lot Deed window is now resizable horizontally and diagonally. SOTA-24298
When dragging horse from inventory to hotbar, the combat bar will no longer be highlighted.
Made the highlight color of selected text more visible for books, parchment, and cards. SOTA-31232
Made the background of character sheets' equipment slots a bit taller so the equipment icons can fit in correctly.
Shogun Armor Set store screenshot is no longer blurry. SOTA-70232
Renamed White/Gold Throne and Footstool set in store for consistency. SOTA-70124
Several fixes for the AFK status. Players will be disconnected if AFK too long in a adventure scene (about ~45 minutes).
Other players should now see the AFK tag when someone goes AFK. SOTA-66937
Fix for an exception when clicking 'Hide Task' on the current task UI when journal has not been opened in that sceneload.
Scrolling in journal entries with mousewheel will no longer hang between entries.
When adding your name to permissions on a lot you already own, a message will appear in chat instead of throwing an "OperationInvalid" error and closing the window. SOTA-23292
Subscribers will now be able to copy and create decks from 24 to 48. Non-subscribers will be able to create up to 24 decks. SOTA-69854
Updated the loading tip on astrolabes.
Added a background to the upper buttons of the recipe book so when it's behind another UI it will bring the recipe book to front. SOTA-70243
Changed the depth of the filter box on crafting stations so they don't interact with other UI. SOTA-68035
Fixed default language not showing properly in language options.
Tentative fix: The moon tower's sound shouldn't play during sceneload anymore. SOTA-70308
Tentative fix: The dragon statue's sound in Arx Draconis shouldn't play during sceneload anymore. SOTA-70317
Tentative fix: The low-health-warning heartbeat sound shouldn't play during sceneload anymore. SOTA-59883
New scene maps:

Artifice Entrance (patched in R99)
Boreas Colossus (patched in R99)
Demig's Battle Camp (patched in R99)
Anseldale
Etan Glen
Exile Island
Greenfall
Grumridge
Grusk
Grusk Moon Tower
Magna Planitia
Nesoskia
Parrot's Roost
Pericaliya
Platinum Keys
Smaragar
Snell's Bend

Created and assigned Dungeon Map Cards to 55 interior scene:

Artifice
Blackblade Pass
Broken Echoes Silver Mine
Bunker C
Bunker T
Caverns of Skrekk
The Clink
Compendium of Pain and Suffering
The Confluence Chamber
Courage Club
Crypt of the Avatar
Cursed Maze of Tartarus
Despair
Dysborg Vault
The Epitaph
Equitas Passage
The Fall
Forest Cave
Graff Gem Mines
Hilt
House on the Hill
Isle of Storms
K'rawl
K'rul
Kas Vault
Kiln Cistern
Kingsport Sewers
Libris Vault
Lost Whiteguard Silver Mine
Malice
Midmaer Passage
Midras Vault
Myrkur
Necropolis
The Obsidian Trials
Opalis Vault
Owl's Head Sewers
Paladis Passage
Psilocybin Lair
PVP Castle Arena
PVP Castle Arena (Teams)
Quel Passage
Resolute Sewers
Rhun Vault
Ruins of Ravensmoor
Serpent's Spine Mines
Solania Catacombs
Spectral Mines
Spindrift Passage
Tartarus
The Tower of the Shuttered Eye
Understorm Gold Mine
Upper Tears
Valhold Palace
Verdantis Mines
World and Quest Changes:
Seasonal Monsters: The Envy Angel has gone dormant and the Arch Lapin has returned. SOTA-68797
Novia: Added a visible path to Castle Atos and a light on the road where the path begins.
POT and PRT Templates: Added and adjusted ambient sounds in all these templates. SOTA-70302
The Isle of Storms: Made multiplayer rather than solo-only to allow for social events.
Novia: Fixed the overly-shiny mine entrance at Spectral Foothills. SOTA-64351
Random Encounters: The spelling of the "Sculpture Merchant" title has been corrected. SOTA-70281
Multiple Scenes: Floating Balloons: Corrected rotation of floating balloons to properly represent wind direction.
Aerie: Updated some of Minerva's responses to help ensure she clears the "Get Ingredients for Minerva" task. SOTA-70268
Aerie: Updated the logic for Lord Macsen to stop him from suggesting he's got a quest when he doesn't. SOTA-70296
Blood River Forest: Updated the cave tunnels so that rain no longer comes through the ceiling. SOTA-70230
Blood River Outskirts: Updated the logic used by Alberic to clear some tasks.
Boreas Colossus: Removed trim from a one-way invisible wall that could be seen from the wrong side. SOTA-70231
Braemar: Adjusted the trigger volume for the Lum's Lament song. SOTA-70277
Braemar: Removed the possibility for silence to be played when players are trying to listen to the song for Lum's Lament. SOTA-70277
Castle Atos: Added "color," "animal," and "food" keywords to the game-playing children as in-character debug tools to help understand which fox-and-rabbit daily flags an avatar has.
Castle Atos: Added a fix in the fox-and-rabbit game so that avatars who delayed their first game by a day can still return and start a new game. SOTA-70259
Castle Atos: Rotated the map of Novia on the tavern wall so it's no longer mirrored. SOTA-70234
Castle Atos: Shrunk the leashes for the 'rabbit' children to help keep them in their hiding locations.
East Vauban Foothills: Fixed a visual glitch with the towers being visible upon puzzle completion. SOTA-68014
Graff Island: Improved the logic which archives the "Return Samael's Ring" journal entry.
Halls of Artifice: Removed a small, white sphere from within a cage. SOTA-70299
Lamech's Bazaar and South Midmaer Way: Fixed several stuck spots throughout these scenes. SOTA-70233
Libris Ruins: Moved a door that was too far from its doorway. SOTA-70292
Malice: Hid a purple trigger volume that was visible to players. SOTA-70300
Malice: Improved the logic to help clear some tasks near the end of the Path of Love storyline.
Norgard Fens: Corrected the size and orientation of several resource nodes, especially ore nodes. SOTA-70269
Northern Grunvald Barrens: Moved several floating stones to the ground near exit archways. SOTA-70223
Owl's Head: Adjusted terrain so the mountain's slip is no longer showing. SOTA-20897
Snowy Tundra Encounters: The snow leopard and snow tiger encounters no longer include normal tigers. SOTA-70279, SOTA-70278
Soltown: Updated Ashton's responses to ensure he always has a response for the "awakened dead" keyword. SOTA-70267
Soltown: Updated SLT-3113's responses to help archive the "Visit Banker in Soltown" task.
Spite: Updated the response from Thetis for the "spirit talker" keyword.
The Outlaws' Run: Improved the logic which auto-archives the "Mention Miloslava to Milosh" task. SOTA-70305
Vertas: Norgrast the merchant now sells alchemical supplies. SOTA-70301
Player-Owned Town Changes:
Crafters Town: Changed owner (Patched in R99)
Mt. Arigatou: Renamed POT, changed biome to Mountains 01 – Right, updated interconnections (patched in R99)
Chiron Beta Prime: Upgraded to Hamlet
Player Dungeon Changes:
Players lost in extensive player dungeons will now have a compass marker showing the direction of the exit.
Player Dungeon Foyers: Now with Echoverb™! SOTA-65603
A team of Kobold masons have rebuilt the Pristine Spider player dungeon room so the connections are now operational.
Navmesh for all player dungeon rooms should be corrected/created now, so pets should be able to follow their owners through *all* player dungeon rooms (except Undead Ravensmoor).
---
Latest News and Q&A Friday Livestream!
The weekly Community Livestream is Friday, April 1st at 4PM CT on Twitch! Join Chris "Atos" Spears and other members of the development team for a 1-hour community livestream!
To enter the prize drawings, type "April Fools" into any in-game chat channel OR make a purchase on the website Add-On Store.
Please submit questions using in-game universal chat by typing "askadev" before your question. We'll do our best to answer these questions live on the stream, and we'll even be periodically posting answers to some unanswered questions in the forums each month. Watch on Twitch, Friday at 4PM CT!
Atos and other members of the Shroud of the Avatar development team go live frequently on twitch.tv/shroudoftheavatar — be sure to get the channel on follow for notifications so you can join us right as we go live! Also, if you've missed our latest streams, check out our archive of content at our YouTube Channel. Like! Follow! Subscribe! Prizes!!!
Don't forget to also join the Shroud of the Avatar team and community over at all our social media venues:
---
Sales and Bonus Events
To celebrate R100, deed upgrades and store sale items will be 30% off (rather than the usual 20%) as well as Crowns of the Obsidians (at 20% off) and double XP through Noon on April 11th!
---
Crown Store Updates
New in the crown store for Release 100:
Arriving April 19th:
The Spring Seasonal store items are still available! These rare Spring items will remain on the store until May 3rd:
Bunny Ears & Slippers Set
Decorative Dyeable Egg Pack
Flower Crown
Lepus Mask 2017
Lepus Mask 2018
Silver & Gold Lepus Mask
White Lepus Mask
Rabbit Tailed Bodice Ensemble
Replenishing Confetti Eggs Basket 2016
Replenishing Confetti Eggs Basket 2017
Replenishing Confetti Eggs Basket 2018
Replenishing Confetti Eggs Basket 2019
Spring Fountain w/ Floating Candles
The Darkstarr store items are still available! These birthday items will remain on the store until May 28th:
Darkstarr Basement Entrance Eternal Pattern
Darkstarr Chaos Throne
Darkstarr Chaos Throne (Reverse Colors)
Darkstarr Clock Tower
Darkstarr Clock Tower (Reverse Colors)
Darkstarr Fur Collared Cloak
Darkstarr Pavers
Darkstarr Shield
Darkstarr Shield Pattern Pack
Lord British vs Darkstarr Battle Banner
Mosh Emote
---
April Login Rewards
Log in during the month of April and you'll receive a SotA Commemorative Painting
and accrued "Centenarian" titles as part of this month's Centenary theme. Congratulations on surviving so many centuries since the Cataclysm!
There was a Great Cataclysm six hundred and forty one years ago that devastated the planet and caused a great upheaval of not only the land but also of its peoples. The exact cause or possible purpose is still a mystery yet to be solved, but the Outlanders' presence, along with Lord British, has given great hope to the inhabitants of New Britannia.
To recognize the Outlanders who have come to their lands and have chosen to stay so long, a title for each Britannian century will be bestowed upon those who visit this month.
---
Release 100 Subscriber Login Rewards
Avatars! Rewards Program login items for Release 100 are a must-have — don't miss out! This month's collection includes a pet Tiger Cub and dyeable Cat Ears! …Those ears won't confuse your cub at all.
Subscribers to the Reward Program must log in during Release 100 to receive these special login items:
The Shroud of the Avatar Rewards Program lets you earn the best rate on purchasing Crowns, AND receive monthly reward items! For the low price of $9 USD per month you will receive the following:
900 Crowns of the Obsidians every month
Monthly Login Reward Items (about 3 per month)
Exclusive Title every 3 months

3 Months: Keeper of the Faith
6 Months: Keeper of the Word
9 Months: Keeper of the Vow
12 Months: Keeper of the Flame
15 Months: Keeper of the Oath
18 Months: Keeper of the Pledge
21 Months: Keeper of the Bond
24 Months: Keeper of the Promise
27 Months: Keeper of the Covenant

Pick any Dye 12-Pack every 6 months
Pick any three of these 7 Obsidian Potions every month:

Potion of Capacity: Increases carrying capacity
Potion of Conservation: Reduces reagent use chance
Potion of Expedience: Swift gathering on all gathering skills
Potion of Precision: Increases Meticulous Collection to all gathering skills
Potion of Preservation: Reduces armor and weapon damage
Potion of Reclamation: Increases Salvage and Repair to all production skills
Potion of Stamina: Decreases focus use from sprinting

While subscribed to the rewards program, players also receive these special bonuses:

Obsidian Potions are significantly more powerful!
24 Additional Deck Slots!
---
Bug Brigade & Testing Directives!
The Bug Brigade was established to improve how the community and the development team work together to improve the game. Since the Brigade's inception, the program has gone through a number of changes and was eventually placed on hold. The stability of the game is as important to the development team as it is to the players, therefore the program was revamped and was relaunched.
The Brigade has been up and running and the volunteers (Alley Oop, Echondas, and Justyn) are in a good rhythm for verifying and submitting bugs to the developers. If you have reported a bug that has not yet been addressed, please be patient while the backlog is being worked. The Brigade is working diligently to clean up the backlog of bug reports posted by players on the forums.
Every month, a considerable amount of development time will be spent working many of the verified bugs which have been submitted to the team by the Bug Brigade. This focused effort on bug fixes would not be possible without the recent efforts of the Bug Brigade. Please take the time to thank these bug hunting aficionados when you encounter them in your travels!
In turn, the development team would like to express a big thank you to the Bug Hunters! These community members are doing a fantastic job bringing so many bug reports to the team, and they're doing it in a way which makes the process smooth and efficient. Thank you, thank you, thank you! Much improvement has been noticed by the development team and we're so very excited to see the program's continued success!
The development team would also like to thank all of those who take time to participate in QA Testing Directives. Thanks to your hard work and dedication, many issues and bugs can be identified and fixed prior to content going to the Live Server! Keep up the great work! For those that wish to participate in future bug hunting endeavors, please check the forums regularly for upcoming QA Testing Directives.
Don't forget, the Bug Brigade is open to all players in good standing and bug rewards are SWEET! They will be awarded on a monthly progression basis with only minimal requirements to qualify. The available rewards to receive in progression via qualifying participation are as follows:
Antennae Head Gear and Forum Title 1: "Bug Hunter"
Single Ant Cloak
Lady Bug Backpack
Bug Painting A and In-Game Title 2: "Associate of Aphids"
Ant Farm
Insect Leg Table
Many Ants Cloak and In-Game Title 3: "Bachelor of Beetles"
Bug Painting B
Bug Sprayer and /bugspray Emote
Bug Painting C and In-Game Title 4: "Master of Moths"
Butterfly Chair
Corpion Chair (Pictured Below)
Yellow Fireflies VFX and In-Game Title 5: "Doctor of Dragonflies"
Hacked Oracle Flyer
Giant Blue Butterfly Pet
Butterfly Mask
Dragonfly pet
Fairy Wings
Monarch Butterfly Pet
Dragonfly Wings
Hacked Oracle Crawler
Blue Butterfly VFX
Orange Fireflies VFX
Orange Butterfly VFX
If you've come to think of Shroud of the Avatar as your home, sign up and help make New Britannia a better place to live! To learn more about joining the Bug Brigade, please read the announcement thread by Ravolox in the main Bug/Feedback forums.
---
Streamer Program

Streamers of Shroud of the Avatar can participate in a program to showcase the game and be rewarded for their efforts. Any Streamer who wishes to be included in the Streamer Program can contact Laney via in-game mail with their Character Name and Twitch Channel information. If you have already signed up for the program in the past, fear not: you're on the list and you don't need to reapply.
Streaming Rewards Program participants must adhere to our Terms of Service (TOS) and Community Rules while Streaming Shroud of the Avatar.
Streaming Rewards Program participants must stream at least 10 hours of Shroud of the Avatar ACTIVE game play to remain in the program with reward accrual.
Streamers will receive a one-time digital reward of in-game items after meeting the program's requirements: Streamer's Cloak, Streamer's Camera, and the LIVESTREAMING title.
Rules:
To qualify for Streamer Rewards, each streamer must continue to meet the minimum requirements for 60 days after application.
To accrue additional rewards, Streamers must stream SotA a minimum of 10 hours per month, tallied on the 1st day of each month, to remain in the program.
Monthly Streamer Bundles:
On the 1st of each month, qualifying streamers will be eligible to receive 50 Streamer Bundles. Bundles will be sent out to Streamers via in-game mail.
A few things you need to know:
Streamer Bundles are intended to be given away to stream viewers, not consumed by the streamer.
Streamers are not allowed to put paywalls in place for the Streamer Bundles. (For example, giving away Streamer Bundles once the stream reaches a certain number of bits, subscriptions, or donations).
Other Items of Note:
Streamers in the program will be included in the SotAbot StreamPop function, appearing in the player-streaming channel in Discord.
An optional "Streamers Kit" is available to the participating streamers as well as all players of Shroud of the Avatar, which includes graphics, overlays and other material.
Streamers must be actively playing the game during their streams. Being away from the keyboard (AFK) for short periods is acceptable. If Twitch indicates the streamer is playing SotA but they are streaming other content or a timeout/login screen, they risk being removed from the program.
---
Upcoming Release Dates
Be sure to check out the Upcoming Events page for spotlighted events plus links to various areas to post or find events on our forums. The upcoming 2022 Release Schedule is as follows:
This Release 100 – Mar 31 (Polish)
Release 101 – Apr 28 (Content)
Release 102 – May 26 (Polish)
---
Community Events & Resources
Greetings event holders and event attendees! So many fun and exciting events are available in the upcoming weeks. Be sure to get out there and participate, make some new friends, perhaps make some great emote, recipe, or gear trades, or get some adventuring and role-playing into your mix! Here are spotlighted events or updated community resources that we've noticed popping up lately on the official forums.
Catnip Games Contests:
Catnip Games Monthly Fishing Tourney: Greetings Anglers! The monthly Catnip Games Fishing Tourney is live! Join in on the fun!

The R100 Fishing Tournament runs from 1-Apr-2022 at 12:00 AM (00:00) CDT to 28-Apr-2022 11:59 PM (23:59) CDT. Note that the R99 Tournament is still running for a few more hours until midnight on Release 100 day; you can still compete for the longest fish in the R99 tournament!

For R100, catch the longest fish in any of these 4 categories:
POTs (Freshwater fish only): Blackrock Cove, Brittany Fort, Knight's Watch, Novia Market, PaxLair, Rock Ridge
NPC Scenes (any fish): Harvest, Highvale Outskirts, Noreach
PVP (any fish): Libris Ruins, Dysborg Ruins
Lava (lava only): Midnight (POT), Sunless Barrens
Prizes in each category include:
1st Place: Player-Owned Town Village Lot Deed, Large Gold Fishing Trophy, Title
2nd Place: Player-Owned Town Row Lot Deed, Large Silver Fishing Trophy, Title
3rd Place: 50 Drudge Leeches, Large Bronze Fishing Trophy, Title​
Catnip Games Monthly Treasure Hunting Contest: Want to go hunting for rare items? Want to see if you can beat other players in this quest for treasure? Well join in on the monthly treasure hunting contest, Avatars!

The R100 Treasure Hunt runs from 1-Apr-2022 at 12:00 AM (00:00) CDT to 28-Apr-2022 11:59 PM (23:59) CDT. Note that the R99 Hunt is still running for a few more hours until midnight on Release 100 day; you can still compete for the longest fish in the R99 Hunt!

For R100, loot the most of the specific item in 2 categories:

PVP Scene: Kas Ruins – Chaos Plant Pollen

1st Place: Player-Owned Town Village Lot Deed, Large PvP Shard Trophy, Title
2nd Place: Player-Owned Row Lot Deed, Medium PvP Shard Trophy, Title
3rd Place: Fire Magic Glowing Mug, Small PvP Shard Trophy, Title​

PVE Scenes: The Outlaws' Run and Deep Ravenswood – Animal Hide

1st Place: Player-Owned Town Village Lot Deed, Large Sword in the Stone Trophy, Title
2nd Place: Player-Owned Row Lot Deed, Medium Sword in the Stone Trophy, Title
3rd Place: Fire Magic Glowing Mug, Small Sword in the Stone Trophy, Title​
Recurring Events:
Community Calendars:
Avatars-Virtue Radio Calendar: Just when are all those talented DJ's and streamers broadcasting? Don't just guess, check out there very helpful calendar! Never again will you wonder when's the best time to tune in!
NBNN Calendar: This calendar provides a great schedule for NBNN and WRFB programing as well as many other community events. If you're a fan of the Laz & Jack show or even if you're hoping to catch them in action for the first time, this is the calendar for you!
SotA Event Calendar: Event participants, take heed! Thoryk Omara has done a wondrous job creating a community event calendar which is available to all players of Shroud of the Avatar. Please make an effort to support this new calendar. The more resources players have at their disposable for event notifications, the better!
Community Event Resources: Here are some fantastic resources for tracking down community events or posting your own events. Become involved! Create! Explore! Make friends! But most of all, have fun!
SO many options to stay tuned-in with fellow community members. Please take advantage of all these wonderful options. Happy adventures, Avatars!
---
Project to Support: Shard RPG
Shard Studios invites you to enter the fantastic world Dárdünah, the vast shard of a shattered realm, as presented in the colorful pages of the SHARD RPG! Many years in the making, this system allows players to choose from a wide variety of animal people who are the main cast of the many adventures this otherworldly setting offers. Skyships glide through shimmering clouds past majestic crystal peaks. Giant insects prowl alien jungles or lurk in the sparkling emerald seas. Warriors with blades of diamond and amber duel across crimson sands. And mystics chant in shadowy chambers as their spirits wander abroad.
Intro Sheet: For a quick glimpse into the world of Dárdünah, be sure to download the intro pdf! It's packed with great information and features beautiful artwork, not unlike the artwork found throughout the many pages of this gaming system's gorgeously designed manuals.
Core System Manuals: It's easier than ever to delve into Dárdünah, World of the False Dawn, with the Core Books Bundle! If you've never had the opportunity to experience this unique gaming system and setting, now's your chance! This bundle includes two beautifully illustrated, full-color, hardcover books: the original Basic Compendium and the Magic and Martial Arts book! They contain everything you need to begin your adventures, and include instructions for the ritual magic and martial arts combat systems. These manuals also include 90 new Animal Templates upon which to base your character!
Other Shard RPG Products: So many more manuals and gaming materials are available! Everything an avid tabletop role-player and game master needs to delve into the world of Dárdünah!
So if you're ready to experience a gaming world like no other, check out what Shard Studios has created for tabletop role-players on the Shard RPG official website! You'll most certainly be immersed and amazed by the offerings of the Shard RPG!
---
Project to Support: Embers Adrift!
Help support one of our team members' other projects, Embers Adrift! While not yet live, they plan to release later this year and you can join the closed beta now by pre-ordering from embersadrift.com. Check out their newly released video here: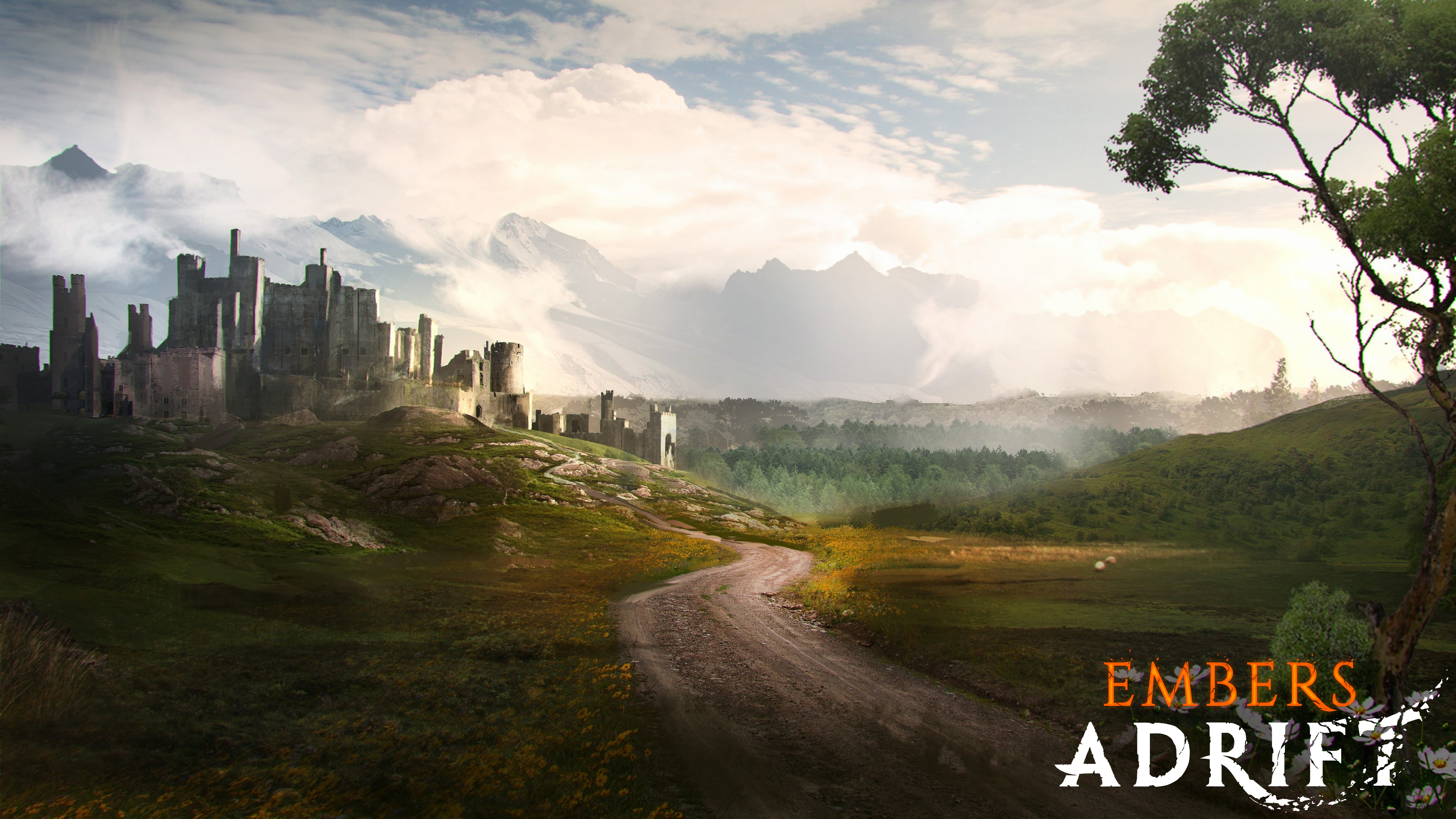 ---
Project to Support: Avatar Express
[Forum post by Vladamir Begemot]
I'm pleased to report that The Avatar Express is clacking away furiously. News is being delivered and we have established systems to deliver it directly to your brain. You can use one of those systems by following us on Twitter at @avatar_express. Even more reliable due to its fully automated nature is joining us on the Discord server. News items are posted there via RSS. Or you can subscribe to RSS directly on the site.
If you run an event, quests, etc, please consider helping out by self reporting. The Shroud community is big, and many things are happening that are never seen by others. With 10k monthly users, we would need a full time staff to track down everything that is happening.
You can fill out the contributor form, message @that_shawn_guy here or post in the Discord server that you would like to help. There is no commitment once signed up, you can post as much or little as you like.
Writing up your own events has several benefits beyond the immediate exposure. It serves as a record for others to see the history of New Britannia as we create it, in an attractive format. Publishing in the Express also has a higher chance than the forums of being seen by search engines and random readers, thus bringing more eyeballs and new players to the game.
It will even make posting in the forums easier! You can upload images to your news item, and then link to those images in your forum post. No more need for 3rd party image hosts!
So if you have something going on in your guild or town, or want to be a Reporter, Cartographer or Historian, please join us!
---
Resources: Players Helping Players
The official SotA New Player Welcome Forum and the Player Created Resources Forum have the best player created resources for Shroud of the Avatar, whether it's a Player Written Guide, a Video Walk-through, or a Wiki-type Website.
Visit the official Community Resources page for a complete listing of all things community.